Architecture in Morocco astonishes with its splendor and magnificence. I wish I could there in my lifetime!
MOROCCO TRAVEL BLOG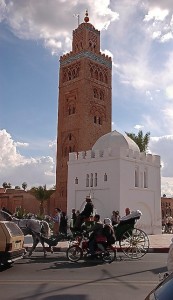 Koutoubia Mosque & Koubba Lalla Zohra
The Koutoubia Mosque, visible from many vantage points of Marrakech and towering over the world famous Jmaa el Fna Square, is an iconic symbol of the so-called 'Red City.' At 77 meters (over 252 ft), it dominates the skyline and is a useful orientation aid. Look out for the minaret with its distinctive four cooper balls from the roof of your riad or hotel. On clear days you will spot it from the window of your plane as you arrive for your Marrakech vacation in the Moroccan sky.
Built in the 12th century, the Koutoubia is one of Marrakech's oldest buildings. It remains the city's largest mosque and was completed under the reign of the Almohad Caliph Yaqub al-Mansur (1184 to 1199). A unique experience of any visit to Marrakech to sit on one of the cafe terraces in Jmaa el Fna as the…
View original post 552 more words